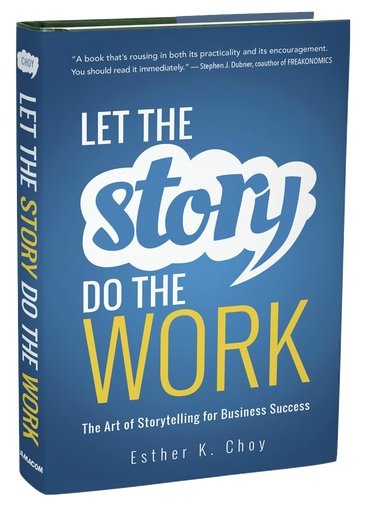 People forget facts, but they never forget a good story. Esther Choy, Founder of Leadership Story Lab, shares the ins and outs of business storytelling in her book, providing templates, principles and examples.
"Esther Choy isn't just smart and wise and sensible, but she also imbues her work with a spirit of kindness and positivity. The result is a book that's rousing in both its practicality and its encouragement. You should read it immediately. "
—Stephen J. Dubner, coauthor of the Freakonomics books, and host of Freakonomics Radio
"I've been delivering presentations for years, but after reading this book, I felt a change in the way I built my story. The result was extremely effective. The audience was engaged and excited. I would recommend this book to anyone that delivers presentations or talks to people-- the lessons are applicable to anything!"
-Mike Maiorisi, Sr. Business Operations Associate, athenahealth
"'Let the Story Do The Work' is different from cookie cutter business books. Esther's writing approach is brilliant, yet practical by introducing the big picture followed by a playbook.  This approach made it easy for me to immediately apply knowledge in an impactful way that led to a promotion. Thank you, Esther, for changing my life."
-Stephen, from an Amazon.com review.

Powerful Visuals: How A Photographer And Nonprofit Leader Is Using Business Storytelling To Save The Florida Panther
Three years ago, I was visiting my favorite art museum, which was hosting a traveling photography exhibit. The exhibit was of portraits. Some were self-portraits ("selfies" from decades before the smartphone), with the subject telling the story of who they were in that moment through attire, expression, setting, and body language. Others were portraits of…
Apply Business Storytelling Insights
Stories surround us, but the most effective stories can be difficult for us to identify and shape on our own. It often takes an outside listener to tell us when our stories make an impact--and why.
Esther and her team provide an expert vantage point. Work with us one-on-one or with your team to apply the business insights from Let the Story Do the Work to your everyday work.
​What if you could spend time with people you like and hone your business storytelling skills at the same time? Using our Guide for Story Clubs along with Let the Story Do the Work gives you a framework for your group to hold four learning and feedback sessions to practice this essential communication skill.
"This is an amazing and insightful post! I hadn't thought of that so you broadened my perspective. I always appreciate your insight!" - Dan B.
Join the thousands who receive Esther Choy's insights, best practices and examples of great storytelling in our twice monthly newsletter.