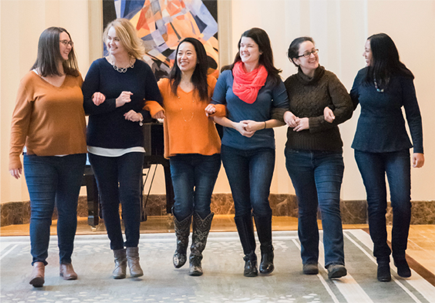 Esther Choy founded Leadership Story Lab in 2010 to help others leverage the art of persuasive storytelling to create extraordinary opportunities. Esther believes we need to "eat our own cooking" as she teaches the art of storytelling for business success.
We firmly believe that no one has to be a superhero to tell a good story.
What do good storytellers need? Knowledge of tried-and-true storytelling techniques and feedback on what works for their audience. Leadership Story Lab has been providing all this since before "business storytelling" became a buzzword. From the start, we've believed in learning by doing and having fun while doing serious things. Join us wherever you are on your journey to become a more authentic and persuasive storyteller.
Three principles guide every Leadership Story Lab experience:
You don't have to be a superhero to tell a good story
Having fun while doing serious things
Our work starts with listening. We take the time to understand you, your organization and your goals. We want to "get" you so we can create tools that are a natural fit with your day-to-day work. You won't hear us say, "let us tell you how leadership storytelling is done." Instead, we will ask, "how can you become the best leadership storyteller possible in your unique context?"
When it comes to your stories, you are the expert. We want to unveil who you are, not make you like us.
We do this by mixing structure and freedom. Every story needs  both structure and surprises. So does every session that teaches you about leadership storytelling.
Come discover your leadership stories with us.
"Esther is such an inspiring speaker. I was able to build my own story that is true to myself and unique.  Got lots of positive feedback from attendees, including 'It was fascinating to understand what others found interesting in my story vs. what I care about.'"
-Lu Cheng, Digital Accelerator Leader, PwC
We love being part of a team of strong, intelligent women who support each other's goals and give our best effort to help Leadership Story Lab and our clients succeed. We find it rewarding to hear our clients testify again and again that storytelling tools are making a significant difference for them professionally and personally.
We would love to hear your story!

Leadership Story Lab is nationally certified by The Women's Business Enterprise Council (WBENC). This certification authenticates that a business is at least 51 percent woman-owned, controlled, operated and managed. It is the most rigorous and sought-after certification of its kind.