April 3, 2018 / Esther Choy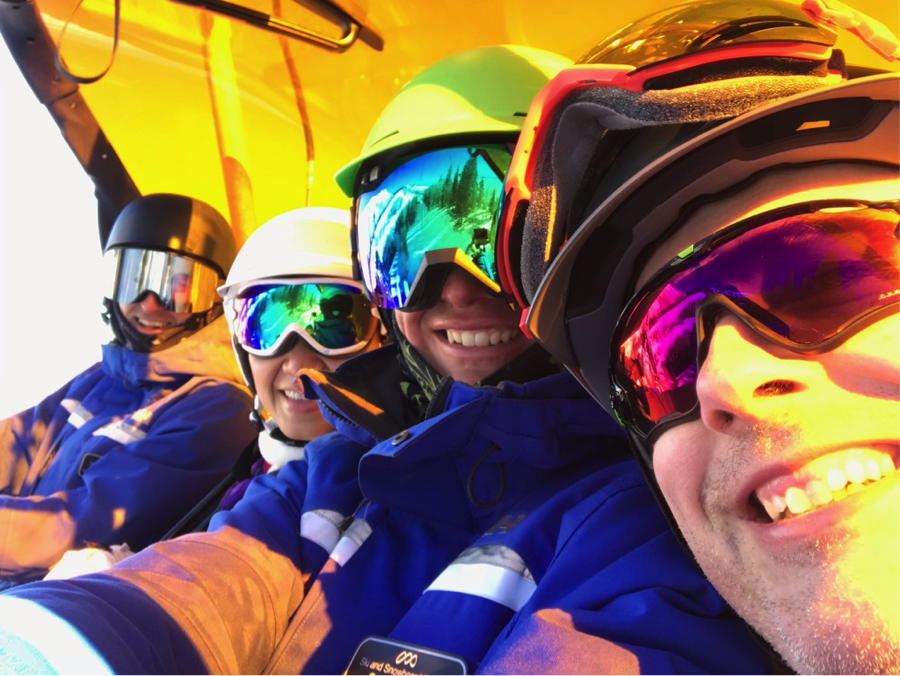 My husband Bernhard grew up skiing. Now that he has his own family, he wanted skiing to be part of his family traditions. The only problem was, I didn't grow up skiing and the one time I tried it when I was a teenager I hated it. And. One more problem. Neither of our girls were particularly athletic. In fact, the first year we tried skiing, my youngest daughter Melia flat out refused. She was three at the time. Not one to practice "do as I say not as I do," I decided I needed to lead by example. So at the age of 40, I learned skiing. By that time, I had a healthy dose of fear, real and dreamed up.
Our first ski trip did not go well. The only question I walked away with was… who in their right mind would volunteer to do this "for fun"?
But with the right instructors, I eventually got the hang of it. Eventually, I even grew to like it. And now I love it so much that I crave it as soon as our ski trip is over.
What changed? Having strong instructors with empathy was key. Looking back, I can see that they used storytelling techniques to get me to do what I didn't think I was capable of doing, and to have a blast doing it.
Storytelling is more than entertainment. It's a powerful persuasive tool. Through my ski instructors, I learned firsthand how persuasive storytelling techniques can be.
Choosing a Point of View
My ski instructor Aaron Lord used a very subtle but effective technique when he gave me feedback: a clever use of personal pronouns.
In all good stories, the narrator's point of view determines the entire perspective of the story. It affects what you know about the plot, when you know it, and how you feel about what transpires.
As Aaron critiqued me, he chose his point of view carefully. He would never say "you did this…" as in "you need to bend your knees further."
Instead he would say, "we could lean into the tongue of the ski boots more." WE. Of course he didn't mean he, or someone else. "We" in this case was just me.
However, when I was cold, achy and frustrated, hearing "we" took the sting away without lessening the personal responsibility that I— and I alone— had to stop being so scared and stop leaning back as I skied down a difficult blue hill. Leaning forward, bending my knees, pressing the tongues of my ski boots – counterintuitively – makes all the difference!
The takeaway for business storytelling? As managers and leaders, we have an opportunity to choose our point of view. We can say, "How are we doing on this project? Let me know if I can help." Or we can say, "Hey, are you going to be able to meet the deadline I set for you?" It's a small shift in point of view that can make a big difference in how your team members feel.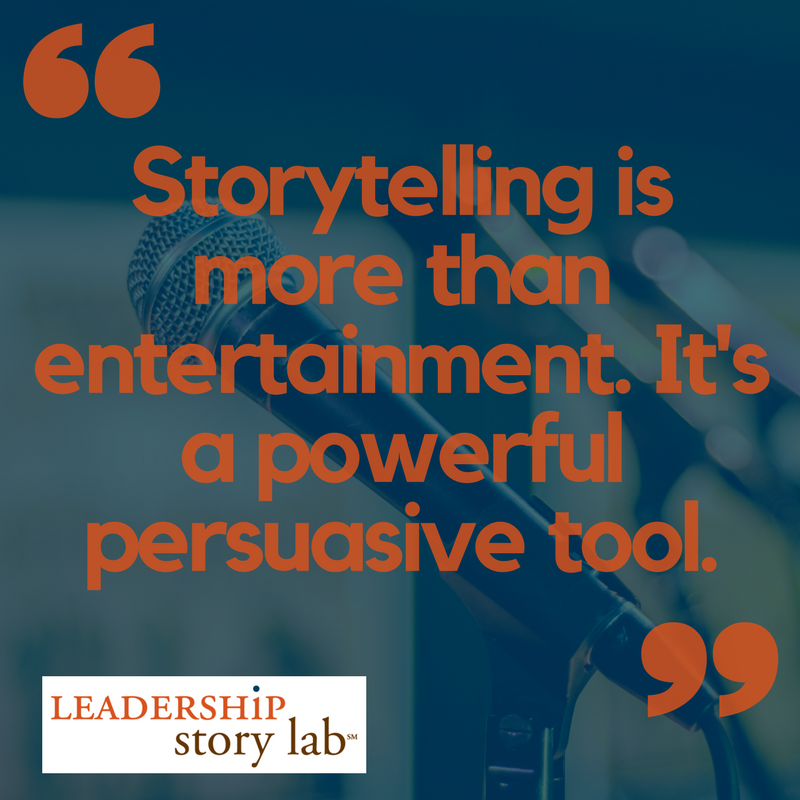 Sharing Stories to Explain a Choice
Presidents' Day is usually one of the busiest days at the ski resort. And on one particular Presidents' Day, the line to use the gondola to go up the mountain was extremely long.
By the time we were finally ready and arrived at the gondola, I was already tired from getting myself and the children ready. Everyone needed several layers of clothes, hand and feet warmers, ski boots, goggles, snacks, water, cash, helmets, the list just goes on. So, when I saw the line at the gondola I already felt a sense of hopelessness. Luckily, our other instructor, Scott Palmer, took a very productive approach. Scott had the idea to ask his supervisor to see if he could take us through the shortcut.
Even as he was approaching his boss, a colleague of his was standing guard telling all of us in line that "everyone has to stand in line – no exceptions."
Seeing someone in uniform and hearing an authoritative voice, most people would've just turned back. Not Scott. He asked for permission, and lo and behold, we were allowed to use the short cut! We bypassed the line that snaked around the base of the resort and saved at least an hour.
As we happily settled into the gondola, Scott told us this fable.
Once there was a bear that had a list of animals he'd like to eat. Word got out and all the animals were scared.
A deer approached the bear and asked, "Is it true that you have a list of animals you'd like to eat?"
The bear answered, "Yes." So the deer inquired, "Am I on it?"
"Yes, you are," said the bear and then proceeded to eat the deer.
Then came a sheep, and you can guess what happened next. On and on, as each animal posed the same question to the bear, each ended with the same fate.
Finally, a duck went up to the bear and asked, "Is it true that you have a list of animals you'd like to eat?"
The bear answered, "Yes." So duck inquired, "Am I on it?"
"Yes, you are," said the bear.
But before the bear could eat the duck, the duck asked, "May I please be taken off of your list?"
The bear thought about it for a moment, and then said, "okay."
It can never hurt to ask, especially if you ask nicely.
As we ascended up the mountain on our gondola, I knew I would never forget Scott's story.
Moreover, because I had not only witnessed and benefitted from an "it-never-hurts-to-ask" perspective, but had also been treated to this fable, I feel more empowered to ask for what I want even when I'm in situations where I might be afraid to do so.
Think about it. How many women have gotten paid less than their male counterparts because they didn't ask?
The takeaway for business storytelling? Sharing the right stories at the right moment has a transformative power. When you notice teachable moments happening among your team, you can reinforce those lessons through the use of stories. Although as a leader the relationship is not truly one of teacher to student, a great deal of learning happens on the job and you can be the one to encourage it. And you can drive those lessons home using an aptly chosen story, like Scott Palmer did.
Storytelling is more than entertainment. It's a valuable tool for every leader who wants to persuade, show empathy, and coach their team to reach their potential.
---
Related Articles
3 Business Storytelling Opportunities You're Probably Missing Out On
---
Want to use this valuable tool of business storytelling? Contact us for business storytelling training and coaching! Leadership Story Lab trains and coaches managers in storytelling techniques to help them become more engaging and persuasive communicators. Whether you would like to stand out in the interview process, add punch to a presentation, or make a compelling case for a new initiative, we can help. Schedule a complimentary session with us today!
Esther's new book, Let the Story Do the Work (published by HarperCollins), is now available!
#businessstorytellingtraining #leadershipstorytelling #pointofview #Storytellinginbusiness #mentoring
"This is an amazing and insightful post! I hadn't thought of that so you broadened my perspective. I always appreciate your insight!" - Dan B.
Join the thousands who receive Esther Choy's insights, best practices and examples of great storytelling in our twice monthly newsletter.