November 10, 2023 / Esther Choy
How do you usually spend your Saturday mornings?
This summer, Saturdays were for lake diving with my family. Not everyone has been as equally excited about jumping into Lake Michigan; one daughter needed lots of persuasion. One morning the four of us decided to hold hands and plunge in together. With only the four of us, how was this moment captured? We didn't think ahead to set up a camera. And even if we did, in the time that it took to set up, the daughter who was hesitant would've changed her mind. This was a now or never moment.
Fortunately, a kind-hearted woman noticed what we were doing. She took it upon herself to film it, and then approached us to ask if we wanted the video. Her name is Gunjan. She is just a godsend!
We've all experienced moments like this one — moments that stand out as particularly meaningful. These experiences are story worthy. We write them down in our memory books or tell our friends about them over dinner. If there are photos or videos capturing them, we may share them on social media.
In this series on why storytelling is a critical leadership skill for the 21st century we are looking at how storytelling helps us lead during times dominated by multiple existential threats. This article gives business leaders the nuts and bolts to how to practice this leadership skill — 3 steps that will show you how to turn a story-worthy moment like the example above into a leadership story.
When can you use a leadership story?
Leadership stories can be used at team meetings, client presentations, job interviews, keynote sessions, or anywhere you want to give your audience a sense of who you are, what you stand for, and what action you want them to take. In a recent HBR article "Storytelling That Drives Bold Change," authors Frances X. Frei  and Anne Morriss made a case about how leadership storytelling is especially necessary during moments of organizational change, when you need to rally people to take action and embrace a new perspective.
With these scenarios in mind, let's dig into how to craft a leadership story that will persuade your audience.
Step 1: Choose your story-worthy moment
You don't have to wait for someone to record your story. Build a story library so that you are always ready to tell the right story for any occasion. In your story library, you can keep notes about the event so that you will be able to briefly retell the story using engaging details. Once you've picked your story based on the needs of your audience, next find the concept that will help you frame your telling of the story.
Recently, CEO Alex Kruzel at Telesto Strategy was getting ready for a kick-off event hosted by her company and wasn't sure which story to share. She'd recently moved into a new flat on the 34th floor. That morning she came eye to eye with a flock of geese moving south. The geese use a staggered formation. With some quick research she learned this formation allows them to go 71% further. She used this story-worthy moment in her opening remarks, with the key takeaway that "together, we go further."
Step 2: Find The Core Concepts To Your Personal Story
To turn any story into a leadership story, you must look beyond the event itself. Look past the specifics of the location, the characters, the action. Just like Alex's story wasn't only about geese, it was about what can be accomplished with teamwork. To find the core concept of your story-worthy moment, use these four guiding questions.
What are the core concepts?
What are the lessons or big ideas that are illustrated by this story?
How is this concept relatable, relevant and re-tellable to the intended audience?
Extrapolate the concept from the details of the story to provide a framework.
For the story about the Saturday morning lake dive, there are two main concepts that rise to the top.
First, this was a now-or-never moment. If we hesitated for any reason, stopped to set up a camera, analyzed the pros and cons, there would be no moment of a family, holding hands and jumping in the lake that day. The concept here: there are times when you can overthink, over plan, or wait for perfection. This will make you miss the opportunity at hand.
The second concept that this story illustrates is found in the character Gunjan. She didn't wait to be asked, she was bold and observant, believing that filming a family jumping into the lake together was the right thing to do. Here the conceptual framework is: Do the right thing. Don't wait to be asked.
Because you will need your core concepts to align with the needs of your audience, you may need to repeat steps 1 and 2 a few times in order to find the best story for the situation at hand.
Step 3: Crystalize Your Takeaway
Once you have your story-worthy moment and core concept, consider how your core concept can act as a frame for your story.
With the now-or-never-moment concept from the example above — you can use the story as a way to share about other times in your life when you needed to seize the moment, overcome fear, offer assurance to others and be present to the opportunities before you. Then take it home by revealing your character:
"Many business leaders with degrees from top ranking business schools may have the tools and frameworks to evaluate opportunities, but I'm the kind of person who knows when I need to seize the moment and plunge into the water. When the moment calls for it, I can help others move from planning into action."
For the second concept — taking the initiative like Gunjan — you can use this story to connect your audience to the idea of being bold, observant and creating an immense impact for another person, even though they didn't ask you to. You can link this example to other times when taking initiative led to meaningful outcomes. Then lead your audience to reflect on this concept in their own lives/workplace:
"Ask yourself, am I the kind of person who waits to be asked? If I see the opportunity to do something great for someone else, will I take it?"
Here's Why Leadership Storytelling Works
You've probably heard the saying "Show Don't Tell." While this is good advice when writing fiction, in leadership storytelling, it's important to show and tell, to ensure the connections are crystal clear for your audience. In leadership storytelling, you want your story to jumpstart a conversation or an action around the core concept.
With a story and a conceptual framework, you are building trust by sharing a personal experience, forging an emotional connection with your audience, and creating the space for the audience to think about the concept you are highlighting.
If you have a story that you'd like to elevate into a leadership story, you can use the leadership communication tool Three Tenets of Persuasive Perfection.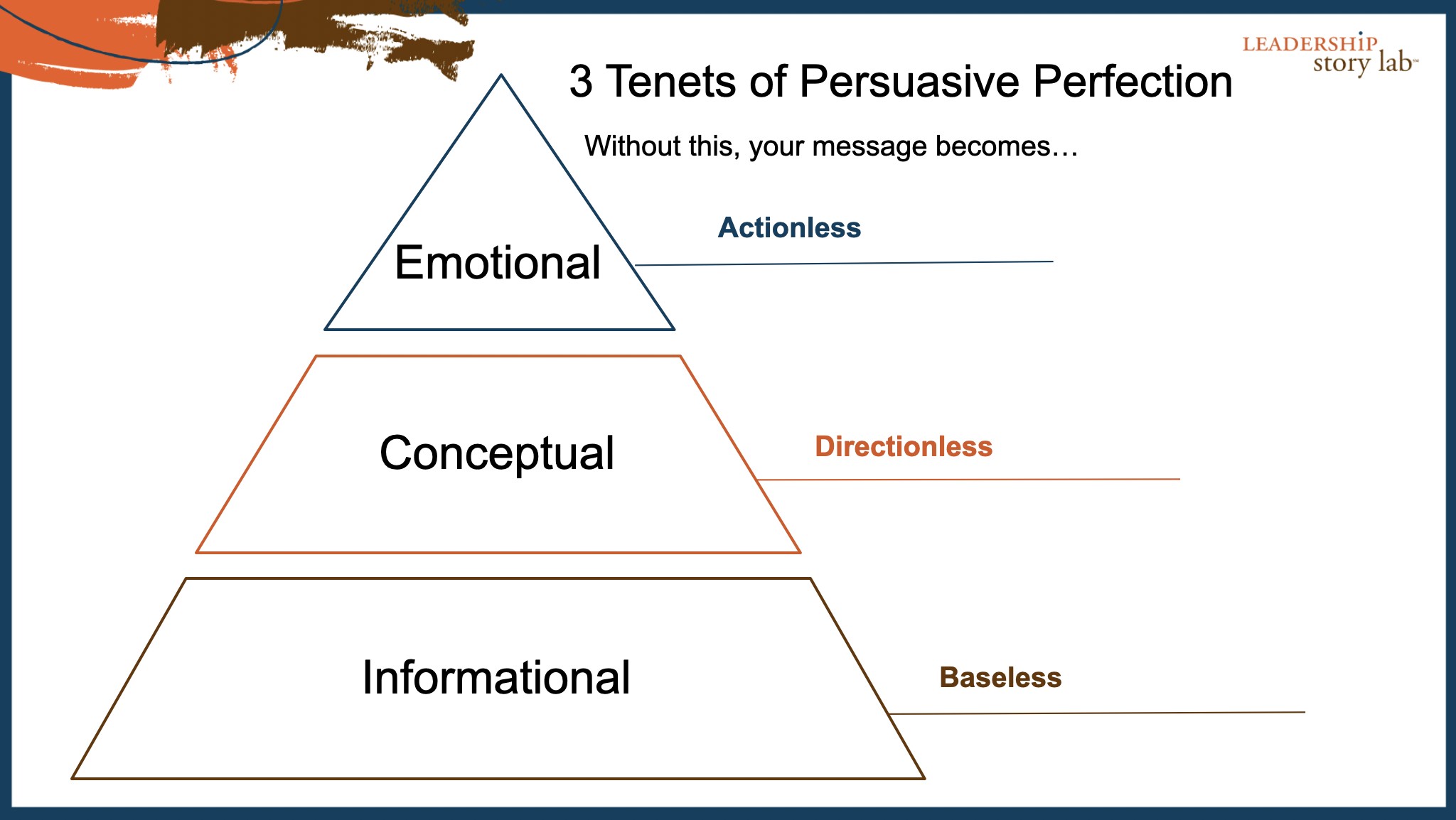 Building Persuasive Perfection With A Leadership Story
By turning a personal story into a leadership story, you are building a pyramid of persuasion.
Your personal story makes up the informational base of your pyramid. This includes the who, what, where, when and how of your story.
You then extrapolate the conceptual framework by zooming out to find the deeper meaning of the story. In the example above, the conceptual level of the story is doing the right thing without being asked.
The emotional level is the finding resonance in the desire to be bold and courageous, the sense of satisfaction Gunjan felt when she gave this gift of the digital recording to the lake-diving family.
What story will you tell at your next presentation or team meeting? Turn a personal story into a leadership story, practice it, and ask for constructive feedback at one of our Story Labs.
Want more examples of how to seize a leadership moment by crafting the perfect story? Here's another example.
"This is an amazing and insightful post! I hadn't thought of that so you broadened my perspective. I always appreciate your insight!" - Dan B.
Join the thousands who receive Esther Choy's insights, best practices and examples of great storytelling in our twice monthly newsletter.