April 22, 2022 / Esther Choy
Shawn is sitting in a presentation about how her company is going to improve client experience next quarter. It's important that she takes in the information because she's going to have to share it with her direct reports and help them adopt the new goals and strategies. However, the VP sharing the changes and the reasons for implementing them is stuck in the weeds, explaining the minutiae of the graphs and charts he's prepared. Though Shawn is motivated to listen, her mind keeps wandering, thinking about her task list sitting on her desk, wondering what she will cook for dinner tonight.
We've all sat through data-heavy presentations, full of important and even interesting information, yet we fight to stay focused. Shawn's VP needed to workshop his presentation before he gathered all his managers together to share his findings.
The following three tenets will help business leaders organize their thoughts and answer the question, "What is this story really about?" while making the content persuasive and memorable. Unlike the IRS model which will help you structure a business story, the three tenets of persuasive perfection are the necessary ingredients that must be included at some point in a presentation. The order and interval will depend on your message.
If you have an upcoming presentation, you can ensure it will be persuasive by including the following tenets.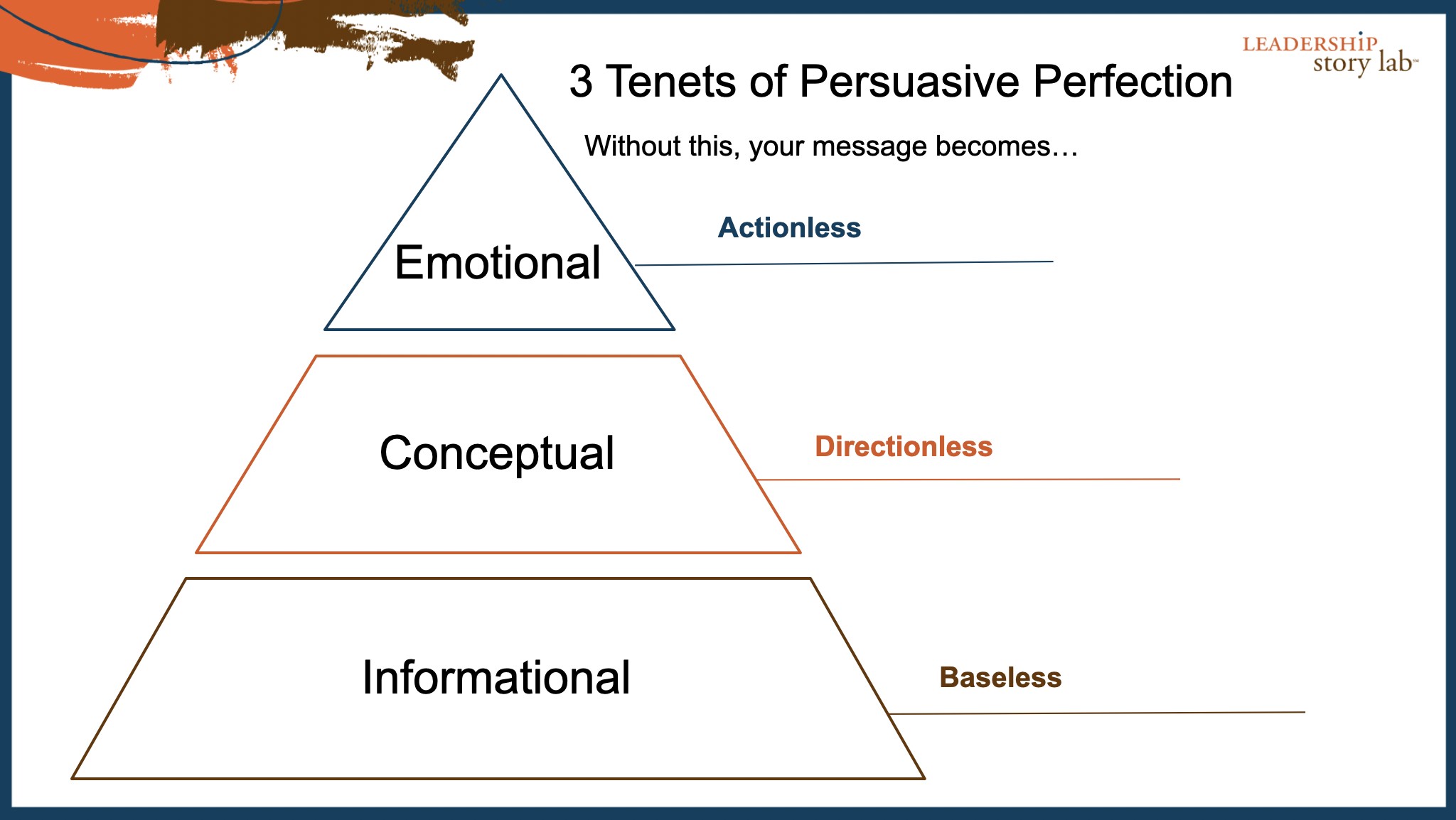 Informational: Without this your message becomes baseless
Without good data, your message doesn't have viability. No one is going to trust your message if you don't provide the necessary information to show why you are sharing it in the first place. Including relevant and factual information in your message will help your audience trust you. It gives you the credentials to be speaking and helps your audience understand the how or why behind your message.
For most business leaders, this tenet is not the problem. Most people's persuasive storytelling in professional setting fail because they have a ton of information but don't include the next tenet, a guiding concept.
Conceptual: Without this your message becomes directionless
A concept is what helps guide your audience through your information. It is the story you wrap your information in. By framing your information within a story, you help your audience make sense of the information, in a way that engages your listener's attention. Because stories have a beginning, middle, and end your audience becomes invested in the story arc. They want to know what happens next. By wrapping your information in a story, you make it memorable and engaging.
For an example of what we mean when we talk about a concept, we can look at This American Life, a narrative radio show that changed the landscape of journalism when it first started in 1995. A typical show has a prologue and three or four subsequent acts.
The prologue introduces the listener to the concept that will guide the show. In the episode called "Well Someone Had to Do SOMETHING!" released April 1, 2022, the narrator introduces the audience to "Bicycle Batman," a Seattle man who retrieved stolen bikes and returned them to their rightful owner to establish the concept that would guide the rest of the show: "People trying to jump in and solve other people's problems, putting themselves directly in the gap between the problem and the solution."
Because of that guiding concept, the audience is then able to make meaning of the next four complex and disparate stories — a Lithuanian man who tries to solve the problem of misinformation in Russia, zookeepers who stay in Kyiv even as the war breaks out, a man who is hired by terminally ill people to interrupt their own funerals, a comedian who "helps" an audience when the movie projector breaks down. Without a guiding concept, a radio show with these four stories would be nonsensical.

Emotional: Without this your message becomes actionless
This third ingredient, emotion, is the icing on the cake in terms of quantity. Though you may only need a dollop of emotion, it is critical to persuasive storytelling. It may also be the trickiest to include. You stir and channel emotion, but you can't require or dictate it.
One way to include emotion is by introducing characters your audience will care about in your story. As your audience listens to the story of a person facing some kind of conflict, their emotions are engaged. Stories not only create guiding concepts, but they bring humanity and connection to your data.
In a recent persuasive business storytelling training, Lisa wanted to share a story to convey her experience as a VP of Digital Strategy (information). Her guiding concept was her uncompromising nature. The emotion she wanted to convey confidence and honesty. With these tenets in mind, she used a humorous story about her love of bagels to package her message in a compelling and memorable way:
A salty everything seasoning. The correct cream cheese to bagel ratio. A crunchy first bite. There are so many things that go into the perfect bagel eating experience. Bagels are hands down my favorite food. As such, I'm very particular about where I get them. Your run-of-the-mill bagel from the grocery store simply will not do. 
For me, this uncompromising nature isn't limited to the grocery store aisles. I know what I like, I know what works, and am strong in my convictions. Doing things the right way doesn't always mean the easy way. But intense attention to detail and process will usually yield the best results and that is what I am after, always.
This applies to the way I lead my team and my clients….
The Takeaway
Shawn, at the opening of this article, finds herself in a precarious place. She has the information she needs to pass on to her direct reports, but nothing else. With the three tenets of persuasive storytelling, Shawn will be able to build upon the information by wrapping it in a story that will provide her listeners with a guiding concept and engaging emotion.
So, before your next presentation, ask yourself the following questions to make sure your presentation will engage and persuade your audience.
What is your guiding concept?
What emotion do you want your story to evoke?
How do you weave in your information in a way that keeps your audience engaged?
Do you have the right proportions of information, guiding concept, and emotion? Do they synchronize with each other?
Related Articles
Best Practices to Audience Engagement: 35 tips
"This is an amazing and insightful post! I hadn't thought of that so you broadened my perspective. I always appreciate your insight!" - Dan B.
Join the thousands who receive Esther Choy's insights, best practices and examples of great storytelling in our twice monthly newsletter.