February 26, 2021 / Esther Choy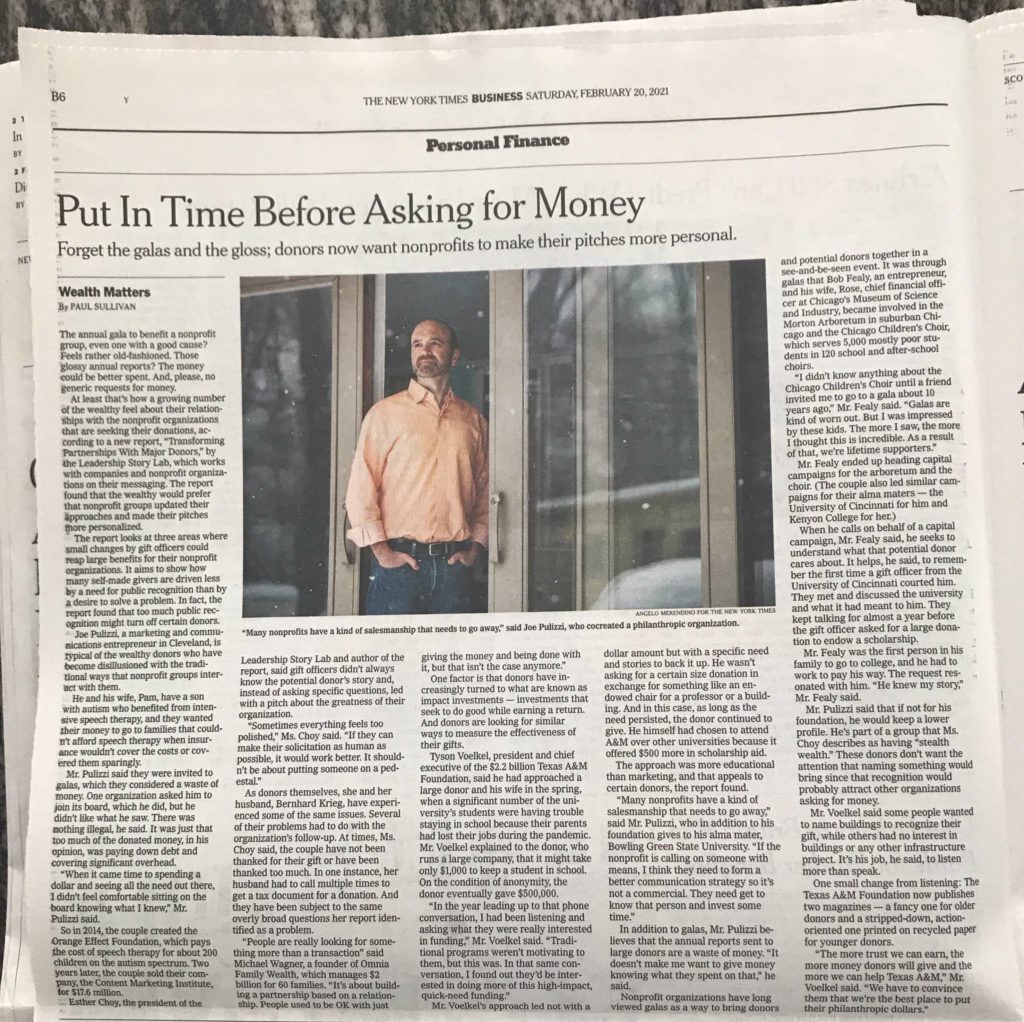 All I dared to ask for was a quote. After all, I was approaching the Paul Sullivan, world-renowned wealth columnist for a newspaper many people recognize nearly as well as they recognize their own face in the mirror: The New York Times.
I hoped Paul Sullivan would answer a few questions that would show others why they should also be interested in Leadership Story Lab's recent research study, "Transforming Partnerships With Major Donors."
Instead, he turned the tables on me and wanted to ask the questions. And instead of me featuring his name on the Leadership Story Lab website, he wanted to put Leadership Story Lab's name in the New York Times.
Sometimes, you simply have to ask for what you really want.
Too often, we are afraid to ask for anything for ourselves, and it costs us dearly.
There's a folktale I love about a bear that had a list of animals he'd like to eat. Word got out and all the animals were scared.
First, a deer approached the bear and asked, "Is it true that you have a list of animals you'd like to eat?"
The bear answered, "Yes." So the deer inquired, "Am I on it?"
"Yes, you are," said the bear and then proceeded to eat the deer.
On and on, as each animal posed the same question to the bear, each ended with the same fate. Finally, a duck waddled up to the bear and asked, "May I please be taken off your list?"
The bear tilted its head, thought for a moment, and then said, "okay."
It can never hurt to ask, especially if you ask nicely.
And you should always tell yourself the right story about the impact your work deserves to have.
As I shared my research on first-generation wealth creators with others who had also created their wealth, responses poured back. Wealth creators felt truly understood. And that, as my report had shown, is a rare feeling for this subset of the wealthy.


Their responses–and advice from my colleague Andy Crestodina– gave me the confidence to approach Paul Sullivan and other major influencers. But I could have visualized an even greater impact. I could have visualized this important research appearing in a column I have long admired and followed.
Still, it's nice to be surprised. Because sometimes others can help you visualize an even greater impact for your work, if you have the courage to take the first step.
---
Related Articles
Are There Flaws in the Stories We Tell Ourselves?
How to Fully Understand Your Donors' Stories
---
Read The New York Times article about Leadership Story Lab's new report– and read the original report here! 
"This is an amazing and insightful post! I hadn't thought of that so you broadened my perspective. I always appreciate your insight!" - Dan B.
Join the thousands who receive Esther Choy's insights, best practices and examples of great storytelling in our twice monthly newsletter.