November 6, 2020 / Esther Choy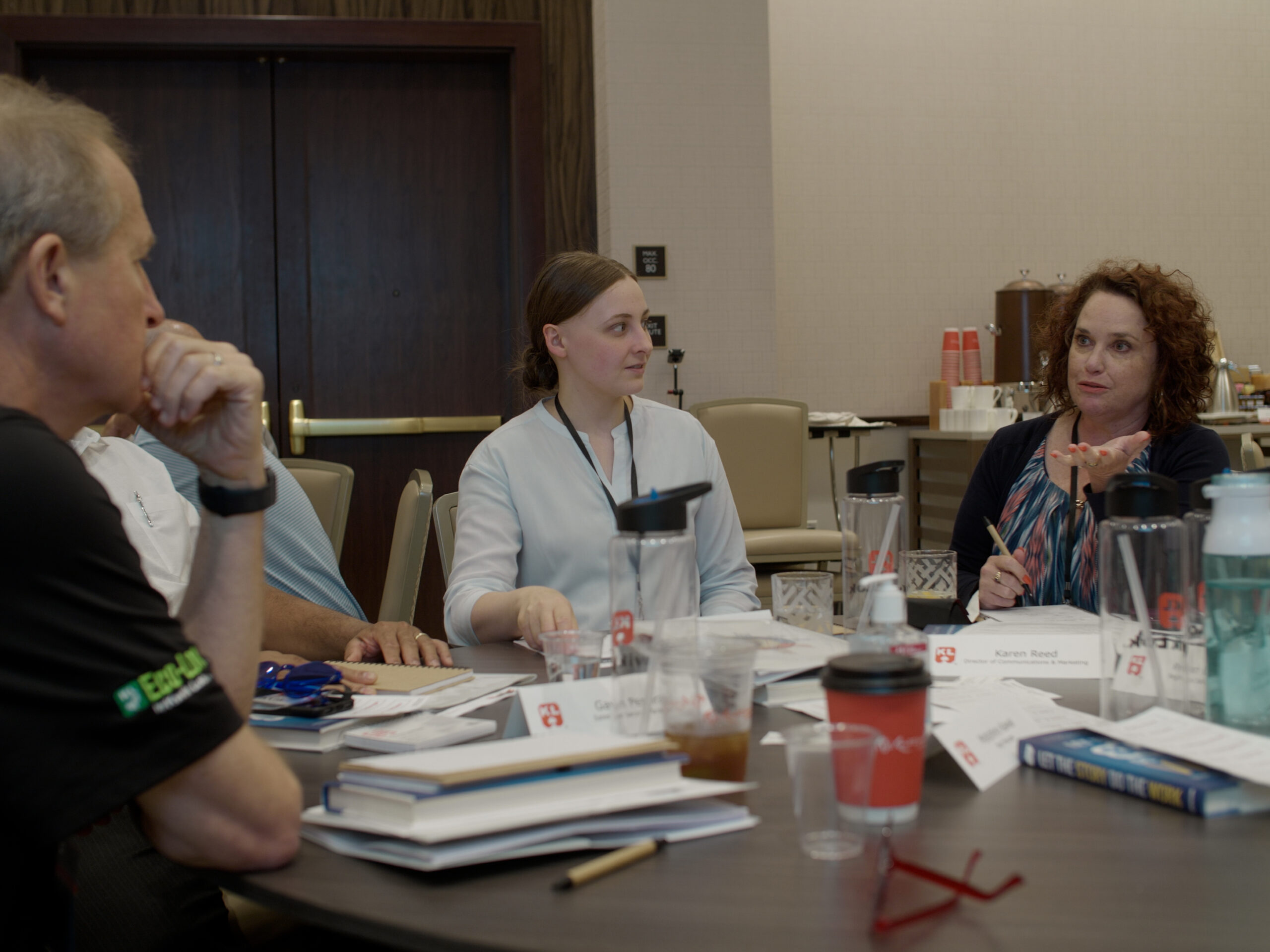 Our workshop participants work hard to master key storytelling techniques they can use in their workplace. Once they have this tool in their leadership kit, they often ask me how they can make the most of every opportunity to tell stories.
After all, once you've invested in learning a skill, it only makes sense to use storytelling in the workplace as often as you can. That's especially true when it's a skill as powerfully persuasive as storytelling.
Here are ten key opportunities to use storytelling in the workplace every day.
1. Start Each Meeting With A Brief Story. 
Sharing client stories, a team story, or a relevant, shared experience are all great ways to kick off a team meeting. Here's an example of one that would get a meeting off to a powerful start, based on a story a member of a marketing team shared during one of my firm's trainings:
A small business was running a factory and a part broke on Friday. The business owner called around and wouldn't be able to find the part until the next week, shutting down manufacturing. Then he called us. We had the part, but our local store was two hours away from him. The store owner offered to meet the business owner halfway on Saturday morning so he could get the production line up and running again. This is what sets our company apart!
Keep in mind that the manager or meeting facilitator does not need to be the sole storyteller. Take turns being the designated storyteller.
If you don't have much time to craft a story before an upcoming meeting, here's a time-saving tip:
When you tell your story, use the "IRS" formula (Intriguing beginning, Riveting middle, Satisfying ending), but write it in the following order:
Beginning
Ending
And then the middle
Why? The ending is the most important part because you want to be very clear about what you want your audience to walk away with. Your beginning gets the story moving toward this ending.
Once you have these two parts written, it's much easier to write the middle—the longest part of your story.
2. Build A Story Library.
It's even easier to use storytelling in the workplace regularly if you capture your client and team stories, using the IRS structure above as a template.
Spend one minute a day—or even five minutes once a week— capturing what happened over the past few days. These stories will be a valuable resource for upcoming presentations and pitches and will bring your organization's character to life.
The beauty of this is that the same story can be pivoted and used for different purposes.
For example, when a client first started with his current employer, he soon learned that one of the partners would have to default on $1.5 million worth of accounts payable. This event— including how he involved support from managers and executives, presented creative ideas, and eventually overcame the challenge— can be used for many different occasions.
Over the years, he told this story at a new staff orientation, annual partnership reviews, and even shared it with several head hunters who approached him for other career opportunities.
Without this library and the process of documenting stories like this one, he would not have even recognized the multiple potentials of his experience, let alone being able to deploy it in different scenarios that called for great leadership storytelling.

3. Acknowledge Your Co-workers.
A Gallup poll has shown a strong connection between "recognition received for work accomplishments" and an increase in employee engagement, so this is a key way to weave storytelling techniques into your workday.
If you take the time and effort to find out the stories of the people who work for you, they will know they matter to your organization.
Dan Balzer, a participant in one of my online courses, has seen this first-hand as he has worked in retail with a multi-billion international conglomerate.
When his company began moving into new retail markets in Latin America and Southeast Asia, Balzer wanted to make sure the rest of the company knew the stories of the people who were helping to start these new markets.
While many project updates will say, "we spent a year and a half, this is the product, and here's what happened at the launch," he wanted to say instead, "here's the person who made it happen."
He interviewed these co-workers and then posted their stories on the company's internal social networking site along with two photos: one professional, and one showing their hobbies or outside interests.
"They felt like I had legitimated their experience," says Balzar.
(Learn how Balzar tells stories during peer-to-peer training, too.) 
4. Capture Your Own Accomplishments. 
Once a month, write your "If You're Only Remembered As" Story (IYORS).  (It's especially helpful for performance reviews!)
Here's how it works.
At the end of each month, ask yourself this question: "If the only thing my boss can remember about my performance this month is this story, and this story alone, what would I want it to be?"
Take three minutes to go through your calendar day by day in the past month to jog your memories of various significant moments at work.
Then, give yourself the following writing prompt: "Upper level management might have a shrinking memory, but they have a little bit of space for me. What is one brief story they could remember about my performance?"
Start writing. Don't overthink.
Here's an example:
Have you ever been stuck looking at a blank page, wondering what to write? This month has shown that I'm the person to call. 
In one case, a colleague was writing an email to pitch our services to a new industry subset. She outlined the ideas and I polished it, leading with a story and incorporating words with emotional punch. 
The result? Our email pitch has already brought 25 new leads!
Collecting these stories will not only improve your self worth and vision for your work, they will also become a ready-to-use resource for performance reviews, job interviews and any situation where you need to convince someone to work with you.

Pay attention to opportunities to help others strengthen their stories. Maybe that involves giving in-depth feedback about story structure within a mentoring relationship. Or maybe it's just asking questions to develop a co-worker's quick, throwaway comment into a story they didn't realize was so compelling. Some questions that do this especially well:
What surprised you about this situation?
What does this mean to you?
How did this begin?
No matter what, leaders must help others feel heard.
This is especially true when disagreements arise. Research has shown that counterarguments aren't as useful as simply listening. People see counterarguments as threatening—"an infringement on the right to have such an attitude." Feeling threatened, in turn, can make them hold even tighter to their initial response.
Empathetic listening, however, can change the speaker's attitudes, as psychologists Guy Itzchakov, Avraham N. Kluger and Dotan R. Castro found. High quality listening decreases people's social anxiety—and if they feel less anxious, they will also feel less defensive.
This is a key part of creating a storytelling culture in your workplace, but not only that—it makes you the person your organization turns to when they want expert communication advice.
6. Explain complex information.
Most days at work give us opportunities to explain ideas we're familiar with to people who aren't in-the-know. Your co-workers, clients and other audiences want that rewarding feeling of understanding complexity–and stories can help them "get it." (Here's how to turn data into a story.)
7. Tell your boss about your project.
Your direct manager has to understand and stand by your work. Your work and her understanding of it can both affect her career.
As Jim Stikeleather says in Harvard Business Review, the boss wants to understand "intricacies and interrelationships with access to detail," and she wants her understanding to be "actionable."
Craft a story with a beginning that hooks your manager's attention, a middle that explores one or two of the most important intricacies and interrelationships, and an ending that says exactly what she should do next.
8. Answer "tell me about yourself."
By far, the most common workplace question is, "so… tell me about yourself."
Any time someone invites you to "tell me about yourself," that really means, "tell me something about yourself that reminds me of me."
As psychologist Robert Cialdini's research on social influence has shown, we not only tend to like people we perceive as being like us, but we're also more likely to form a stronger connection with them and find their ideas persuasive.
So, you can earn credibility points when you know your audience and answer the "tell me about yourself" question with a story that resonates with them.
That doesn't mean offering people mirror images of themselves. Instead, tell a story about yourself that is universal enough to make them think about how it intersects with their own story.
9. Persuade people to change.
When we want to create change in the workplace, we must use stories to inspire and motivate people to embrace change.
My client Glenn Hollister used a powerful story when he needed to get airline executives to embrace a new technological change. Very few people like learning a whole new dashboard. But Glenn started by telling the story of a "day in the life of an airline executive."
He spared no details, going through the executives' day minute-by-minute. This not only reassured them that Glenn understood their challenges, but it also helped them to see that the status quo was not working well for them. Then they were ready to accept Glenn's solutions.
10. Share the "why."
At a Leadership Story Lab training, a participant once shared that a prior employer had gone through several iterations of bankruptcy. Why? There was nothing the matter with their product. It was totally sound. The problem was that they couldn't get enough of the right people to buy into the concept of why the product was important.
With a story, you can illustrate what life is like for the people who benefit from your product. You can demonstrate why the product matters so deeply to you, and (even more importantly) to your audience.
Every story is a chance to strengthen bonds with our listeners. But unless we're intentional about finding ways to use storytelling in the workplace, many business storytelling opportunities will pass by unnoticed.
Download this list of 10 ways to incorporate storytelling into your work week!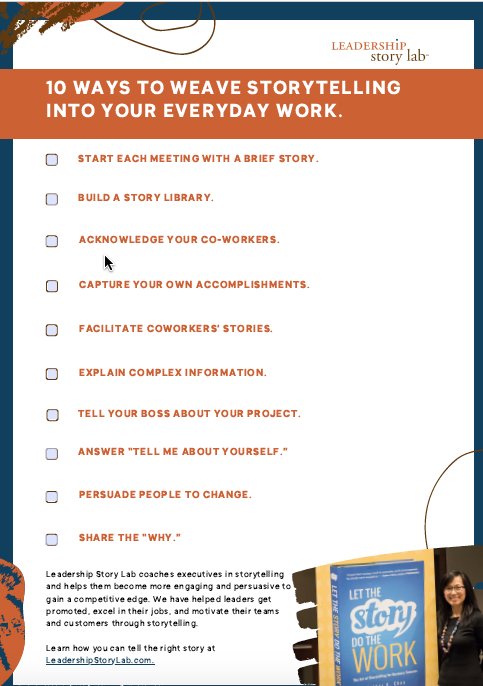 ---
Related Articles
The #1 Reason Authentic Business Storytelling Is So Difficult
The Storytelling Secret To Being Concise
---
"This is an amazing and insightful post! I hadn't thought of that so you broadened my perspective. I always appreciate your insight!" - Dan B.
Join the thousands who receive Esther Choy's insights, best practices and examples of great storytelling in our twice monthly newsletter.