October 23, 2020 / Esther Choy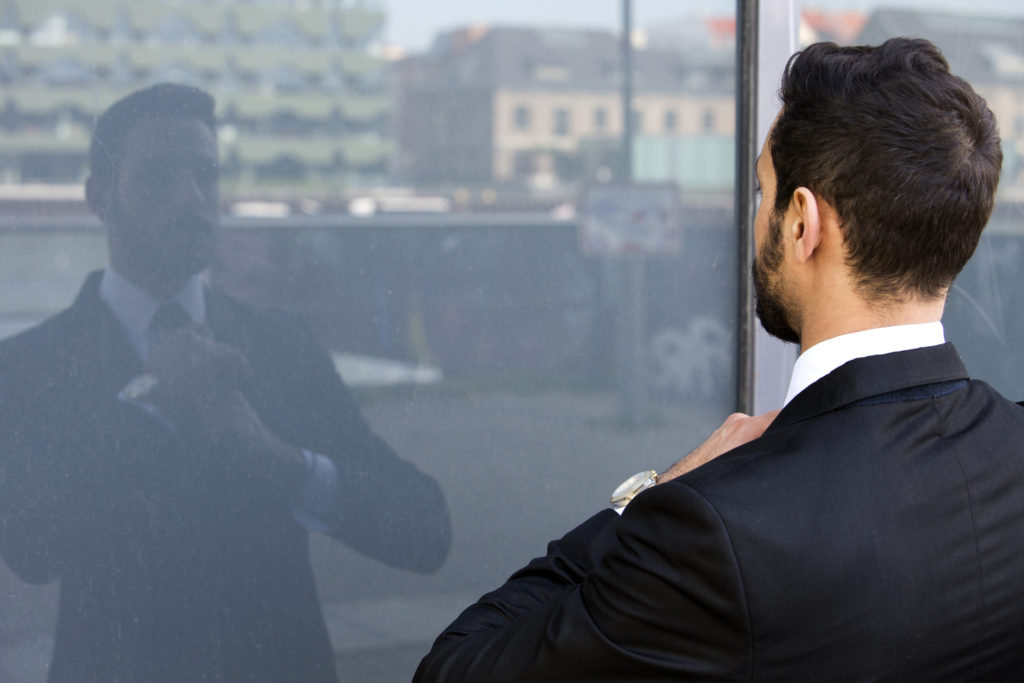 As you advance as a leader, people will often ask you to offer intelligent opinions on subjects you know very little about. And you will often need to hold your own with experts and ask them astute questions. You may feel like you need to earn a Ph.D. before you dare to offer an opinion or formulate the right questions. When we feel uninformed, imposter syndrome sets in, and our natural tendency is to ramble or be tentative and timid.
What helps you avoid imposter syndrome? Storytelling.
Landing In The Deep End
In fact, I recently found myself in a situation where I was in over my head. I was about to interview Todd Schurz of Schurz Communications for my podcast with the Kellogg Center for Family Enterprises, "Family IN Business."
I knew Todd's story. He's worked with the Center for Family Enterprises often, and his story is hard to forget. His family founded the South Bend Tribune in 1872. For generations, they expanded their business and embraced each new type of media technology. But, as a fifth-generation leader, Todd has seen how difficult it is for media companies to stay afloat. So, eventually, he and his family decided to get out of traditional media.
The important thing, they decided, was that whatever new directions they embraced, they stuck together as a family. They eventually decided to pursue cloud technology, a completely new field for them.
That's when I realized how complex his story really is. I didn't know what all the words meant, and the deck grew more and more technical as his story progressed.
Our interview was fast approaching, and I didn't have as much time to research the media industry as I would have liked. Imposter syndrome threatened to creep in.
More importantly, how could I ask intelligent follow up questions to make the complexities of his story clear to listeners? And how could I shape and narrate the podcast episode effectively if I didn't understand each and every technicality? I was supposed to guide the listener through the information, but I felt like a guide who could quickly stumble in this unfamiliar terrain.
What did I do to avoid imposter syndrome?
I followed a solid story structure.
And this is what will come to your rescue every time you are in over your head but need to hold your own and offer a thoughtful—though not expert—opinion.
Find A Hook And An Ending
I recognized a hook in what Todd had told me: How do you leave the industry your ancestors built? Is it sacrilegious?
Once I had this hook, I figured out how to end the story. An ending should feel satisfying and uplifting. As soon as Todd told me a story about the "voices on the hill," I knew it was exactly the right story to end with.
Here's how it goes:
A consultant working with the Schurz family told them about a family business that held its family meetings at a cemetery up on a hill, where a number of their ancestors were buried.
"And so," Todd told me, "when they would have discussions affecting the business and the family, they would talk about the voices on the hill, and they'd talk about the ancestors." The consultant posed this question to the Schurz family: "as you make decisions, who do you think about most, the voices on the hill or the next generation?"
In the final moments of the podcast, Todd revealed how his family members each answered that question. It became a memorable and satisfying ending.
Structure The Middle
From there, structuring the interview was a matter of figuring out how to guide the listeners through the middle of the story by tying the beginning and end together in a way that would make the listeners think further.
Here's an easy way to structure the middle of a complex story, from a formula a colleague, Matt Philip, once shared with me. It's incredibly simple, yet few in the business world follow this structure.
Have a number in mind, such as, "Today I'm going to talk about three things" (or 2 or 5 or 7… but never more than 10).
Then:
State the first thing, making sure to use the word "first."
Say the second thing.
Mention the third thing.
Provide a quick summary of the previous points as you progress.
For instance, I prefaced the middle of Todd's story with a question: "what were some of the major shifts that had nudged Schurz Communications towards this big move?" The answer: "There were four."
I then guided the listeners through these four shifts:
Changing profile of family owners working versus not working for the company.
Schurz Communications' board evolving to have outside independent board members.
The Great Recession.
Aggressive industry consolidation.
Stick To Your Theme
Highlighting these changes in the middle fit with the story's theme.
Ultimately, I wanted to keep one idea front-and-center. Schurz Communications was not doing what had defined them as a family enterprise for over a century. They were facing an existential question. Hanging onto this theme allowed me to understand the whole story. Todd's story was a turning point story.
The theme is what your story is about at its core. This becomes the spine of your story, the y-axis in its graph.
After those initial moments of feeling overwhelmed with technical information about an unfamiliar industry, I applied storytelling techniques and found my way through.
---
Want business storytelling examples and tips delivered to your inbox? Sign up here.
---
Storytelling draws out the human connections and makes information relatable. So whenever you have to give an opinion or ask thoughtful questions about an unfamiliar topic, you are never an imposter. Far from it. So what if you're you're intelligent, inquisitive, but uninformed? That just means you're much the same as most of your listeners. And you can leverage that for their benefit. This, in turn, fights imposter syndrome.
Whether you're finding yourself having to pitch a brand new product that you know very little about or being put on the spot during an interview about subject matter you've never heard of, apply these storytelling principles. They'll keep you succinct, coherent and persuasive.
Want in-depth guidance on how to do this? Leadership Story Lab offers a module called Impromptu Storytelling. It's one of our most popular modules. Let me tell you more about it.
---
Related Articles
How to Tell a Three-Act Story: An Annotated Example
Working Remotely? Storytelling Builds Your Credibility
---
"This is an amazing and insightful post! I hadn't thought of that so you broadened my perspective. I always appreciate your insight!" - Dan B.
Join the thousands who receive Esther Choy's insights, best practices and examples of great storytelling in our twice monthly newsletter.